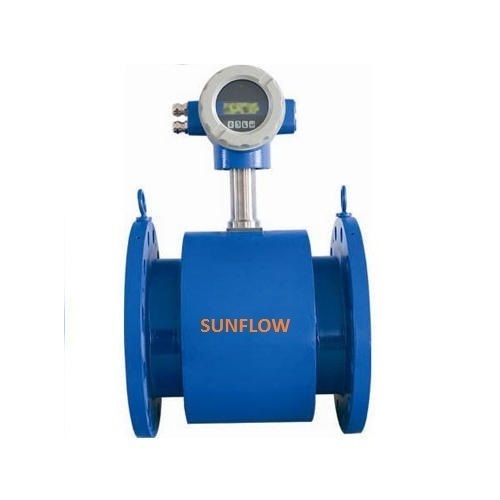 Product Description
Electromagnetic-Flowmeter:
Sunflow Make
Item Code: SF/EMF/200
OPERATING PRINCIPLE
The operating principle of Electromagnetic Magnetic flow meters is based upon Faraday's Law of electromagnetic induction E = kBDV ( E-Induced Voltage, B- Magnetic Field Strength, D-Conductor Width, V- Velocitypf Conductor ) It state that a voltage will be induced in a conductor moving through a magnetic field. The magnitude of the induced voltage E is directly proportional to the velocity of the conductor width D, and the strength of the magnetic field B. Liquid acts as a conductor as it flows through pipes.
DISCRIPTION
sunflow Electromagnetic Flow Meters are micro-controller based full bore type electromagnetic flow meters to accurately measure the flow rate of conductive liquids and slurries in closed pipes in various industrial application. It's simple and rigid design makes it an obstruction less & maintenance free instrument. The use of 'Pulsed DC' technology offers highest ability & better measuring accuracy in the form of electrical signal 4 - 20mA DC linearly proportional to volumetric flow. LEVSEN full bore flow meter is a cost effective flow meter for conductive liquids such as Raw Water, Chilled water, effluents, Potable water and industrial chemicals.
TECHNICAL SPECIFICATIONS:
Media : Liquids (Conductive)
Conductivity : > 5 µs/cm
Viscosity : 200 cp max
Line Size : 15 NB to 300 NB
Excitation : Pulsed DC
Type of Output : 1) 4 to 20 mA DC, Isolated, HART 2) Pulse
Display : 16 x 2 LCD - 4 digit for Flow Rate & 8 digit for Totalised Flow
Accuracy : +/- 0.5% of F. S.
Linearity : +/- 0.5% of F. S.
Repeatability +/- 0.2% of F. S.
Process Temperature : 75° C max for Rubber Lining & 150°C for PTFE Lining
Process Pressure : 10 kg/cm² max
Power Supply : Option 1 : 24 V DC
Option 2 : 90 - 260 V AC, 50 Hz
Material of construction :
Lining - Rubber / PTFE
Flange - CS / MS / SS304/SS316
Electrode - SS 316L / Hastalloy C / Platinum
Coil Housing - MS / SS 304
Transmitter Enclosure : Die cast Aluminum IP 66, Flow Tube IP 68
Process Connections : ASA 150 Flanged as Per Table B16.5
Mounting: In-Line Horizontal (Vertical on request)
Operating Conditions: Temperature 0 to 55°C / Humidity 5 to 95% non condensing
OPTIONAL
Communication Port:
1) RS 485 supporting MODBUS RTU Protocol
2) GSM Communication
3) 4-20mA with HART
Other Information
Minimum Order Quantity: 1 Piece(s)
Contact Us
Gala No-46, Ganesh Nagar No 1, Cama Industria Estate, Walbhat Road, Goregaon East, Nr. Anupam Grain Store, Goregaon East, Mumbai, Maharashtra, 400063, India
Phone :+918068341831